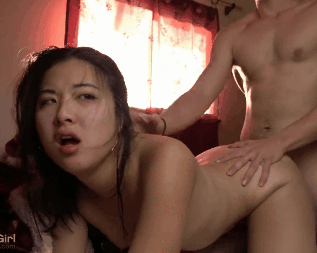 After much convincing, I was able to get you to enroll in a couple of classes at our local community college. You didn't want to take any classes with people fresh out of high school so I suggested you sign up for night classes; most of the students attending those are adults who have day jobs. One of these classes was on Monday and Wednesday nights and this is where you met Victoria.
You were nervous on your first day and who could blame you? You sat towards the back of the classroom. There were about 60 desks in the large room so you hoped that sitting in the back would make you semi-invisible to the teacher. As the starting time of your art history class approached, more people came into the room. And I was right, about eighty percent of the students looked like they were at least 25 years old. You were glad to see that most of the people in the class were of "car-renting" age. One particular student caught your eye.
She peeked through the door shyly at first, then took the one of the closest seats to the exit. Her wavy, brown hair just touched her shoulders and framed the soft features of her face. The black sweater she was wearing was a snug fit around her curvaceous breasts and stomach. And those jeans weren't hiding any bit of her peach-shaped ass. You looked away from her for a minute just in case she saw you staring; but the image of this voluptuous kitten was intoxicating.
The instructor came in and introduced herself. You barely heard a word of her introduction to the class. Your eye candy turned and saw you looking at her; you didn't look away and she smiled as she turned back to face the teacher. Okay, you thought, she may be willing to talk to me; I should go say hi after class is over.
First days of class are never very long, and after thirty minutes, the instructor dismissed everyone. You jumped up from your seat and quickly approached the woman. She looked up and smiled again.
"Um, hi. So are you going to stay in the class?" you asked.
"Yeah, probably. It seems like a pretty easy 3 units.
"And the teacher is pretty nice… so far."
"Yup."
There was that awkward silence that always comes when talking to a stranger. You looked down at her hand and noticed that she had a big diamond ring on her finger. Your thoughts took a big sigh at the prospect that she was married.
"I'm John by the way," you finally said after those long 4 seconds.
"Hi John, I'm Victoria," she responded as she looked down at her ring and curled her fingers. "I guess we should get out of here before the next class starts. Do you want to go to the bookstore with me?"
"Sure!" you quickly said, regretting the noticeable enthusiasm in your voice. "I have some spare time before I head home."
As you two walked to the store, you found out that Victoria worked at an advertising agency in San Francisco, but got laid off eight months ago. She found a job working in PR in San Jose and her husband already worked as a police officer in Sunnyvale, so they left their apartment in the city and bought a small condo in Mountain View. Her current job wasn't as challenging or paying nearly enough as her ad job, so she decided to take some classes at the community college to make up for the lack of stimulation she was getting at work.
After getting textbooks, you and Victoria began walking to the parking lot.
"Well, I should get going now. My husband works these crazy hours so when he is home, he likes me to be there," she said with a sigh.
"It sounds like you're not too happy about that."
"I mean, I love him, but lately it hasn't been too great. Well I don't want to bore you with the details so I'll take off now."
You parted ways and promised to see her at the next class. As she walked to her car, you watched her ass sway back and forth in those jeans and thought of all of the naughty things you could do with those delicious buns.
"Ooooo it's Wednesday. Aren't you excited about seeing your new 'girlfriend'" I teased as you were getting ready.
Your cock grew hard at the thought of seeing Victoria again and seeing me in my skirt and tank top didn't help. Throwing your bag on the floor, you grabbed my shoulders, led me into the living room, bent me over the couch, and proceeded to hike my skirt up and pull my panties to the side.
"Mmmm fuck me güvenilir bahis John," I whimpered as you pulled out your cock. I dug my fingernails into the cushions as your rod pushed into me. You grabbed my tits and pounded my wet cunt; we came in a matter of minutes.
"Ohh.. that was nice. But you better hurry up. You're going to be late for class."
"Oh yeah… okay, see you in a little bit sweetie," kissing my forehead before you walked out the door.
"Don't be too bad John. You don't want to scare her off!" I giggled.
You got into the classroom with two minutes to spare. Almost all of the seats were taken except for a few stray desks in the corners. You scanned the room looking for Victoria and she was sitting in the same place as Monday, with her bag on the seat next to her. Hoping that the seat she was saving was for you, you walked towards her.
"I was wondering if you would show up," she said as she gave you another bright smile. "I saved a seat for you."
"Hey thanks!" You took the seat and the teacher started her lecture. Victoria was wearing yet another outfit that took your breath away. This time it was a mid-length black leather skirt with a sheer white blouse. You could see the faint outline of her nipples; your hands began to get sweaty.
The ninety minutes went by fast, you had about three paragraphs worth of notes while Victoria had about three pages. You closed your notebook quickly so she wouldn't think you were "occupied" with something else. Before you could say anything to Victoria, she asked:
"So John, do you want to go out for some coffee?" All you could do was nod.
You two grabbed a couple cups of coffee and decided to take a walk around a more secluded lawn area on campus. You talked about work, the art class, and other subjects. You caught Victoria a couple of times looking below your belt, but didn't make a big deal out of it. The last thing you wanted to do was embarrass her. One of the top buttons of her blouse became undone during the walk, but you didn't mention it to her.
"So how was hanging out with your hubby on Monday?" you finally got the courage to ask.
"Not too great. He wanted me home, but then when I was there, he just watched TV and ignored me."
"That sucks. I'm pretty good at giving my girlfriend the attention she needs. We're happy."
"Good for you! How would she feel about you walking around with some woman you met in a class?"
"I actually told her about you. She was a little worried at first, but she's okay with it now. And it's not like anything is going to happen!"
"Yeah… that's true," said Victoria. You noticed a bit of disappointment in her voice as she said it.
"Hey, would you like to come to our apartment and meet her? She would love to meet you."
"Umm.. sure. I mean, if you're sure it'll be okay with her. I don't want to get you in trouble."
"Nah… she's okay with it."
"Sweetie? I'm home!" you said as you entered.
"Helloooo…" I said as I met you at the door. "Oh hi!"
"Hi there" said Victoria.
"This is Victoria, she's in my art history class," you said. "Victoria, this is Amy, my girlfriend."
We shook hands and exchanged greetings again. We all sat down and chatted a bit. I took a couple of peeks at her and winked at you. I had a feeling you brought Victoria here for other reasons than just to introduce her to me, so I proceeded to make my exit.
"Well it was very nice meeting you Victoria. I was actually heading out to meet some friends of mine, but you're welcome to stay around."
"Oh! Thanks! It was nice meeting you as well… I'll probably be heading out soon too," she said.
We exchanged one last good-bye and I left.
There were a few more seconds of silence and you got up to get another glass of wine. When you came back, you sat a bit closer to her than before. She noticed but didn't shy way; instead, she leaned in towards you. Her cleavage was showing more than ever now, and you couldn't help but notice the lovely curve of her tits. You had a brief thought about your cock sliding between those soft mounds.
"Your girlfriend is sweet," she said as she brought you out of your fantasizing.
"I agree…" you responded.
She looked up at you and smiled once again. She placed her hand on your arm and gave it a little squeeze. türkçe bahis You put your glass down and scooted closer to her. She closed her eyes as you kissed her cheek, then lips, then neck. She let out a little moan and tried to resist you at first, but after a few minutes, she gave in and began sliding her tongue deep into your mouth.
Your hands slid all over her body. Along each smooth curve you stroked, your cock got harder. Victoria noticed and put her hand on your bulge. "Mmmm you feel so good John," she moaned. You decided to take a chance and get a little more naughty. You squeezed her tits and pinched her nipples. She tilted her head back and purred in delight.
After your heavy petting session, she pushed you away. You thought her conscious got the best of her and that was as far as you were going to get. But she wasn't done. She slithered off the couch and stood in front of you. You rubbed your crotch as she started to unzip her skirt. She slid it off and you licked your lips to see that she wasn't wearing any panties. Her blouse was next to go and her round, bouncy tits must have been at least a 38D.
Before she was able to get her bra off, you sat up and pulled her to you. Her tits were right at your face so you pulled the cups to the side and began to circle your tongue around her already hard nipples. One hand began to travel down to her ass as the other held a tit steady in your mouth. She continued to moan and purr as you clamped your teeth around a nipple.
She pulled away and pushed you back again. After removing her bra, she slid between your legs and began to unzip your jeans. She pulled them down and kissed your cock through your boxers. You helped her remove those and your cock easily sprang free. She didn't hesitate and started sucking you hungrily. You actually had to hold back a little before you would cum into her mouth right there. She slowed down a bit and you grabbed her hair. Thrusting your hips, you began to fuck her sweet mouth. Her tongue was sliding along the bottom of your cock as her mouth moved up and down the shaft.
"Oh god yes Victoria, suck my cock you little ….. slut," you hesitated on the term of endearment but couldn't help but say it. She didn't mind at all.
"Mmmm yess yeah.. I want to be your slut John," she cooed as she wrapped your cock with her tits. You pumped and she squeezed and licked your tip as it peeked through. Her flesh was so soft and warm, your cock continued to get harder and bigger. But now it was her turn to be pleased.
You gently took her hands and guided her to our bedroom. As she got comfortable on the bed, you looked at our closet and noticed a small red light through the one-inch wide gap the opened door left. You had a feeling that I wanted something to watch later on.
Victoria was spread wide and waiting for you. You leaned over and licked her neck. Your hands traveled down her body and to her neatly trimmed pussy. Her scent was lovely and she was dripping wet. She wiggled a bit as your kissed her mound. The tip of your tongue slid between her lips and teased her swelling clit. She arched her back as you dove into her pussy; licking her hot, wet hole. You wanted to get every drop of her taste as your lapped her cunt. "MMmmm finger me John!" she screamed. You obeyed and slid three fingers deep into her. Her hips bucked and moved as she bounced on your tongue and fingers. All of a sudden, you felt her pussy grip your fingers and her body froze. As she came you licked up as much of her as you could.
You slid up to her and whispered, "Does my slut need to be fucked now?"
Without a word, Victoria got up and on all fours. Obviously, she had a favorite position.
You got behind her and rubbed those beautiful buns. You tried to resist, but couldn't and gave her ass a hard smack. She jumped and squeaked, but didn't tell you to stop. Her ass started to get pink as you continued to smack and rub.
This woman has no limits, you thought to yourself; but you wanted to do one more thing before fucking her. You bent down and spread her ass. Her puckered little hole didn't look like it was used to the treatment you planned to give it tonight. You licked it gently and sure enough, she was shocked.
"Oh god!!! What are you doing?!" she moaned.
"Do you like it baby?"
"Mmmm yess…. Lick it more…. Lick güvenilir bahis siteleri my ass…" she begged.
You continued to get her ass going. Licking it slowly, teasing it with the tip of your finger. As you started to work your finger into her ass, her body started to tense up; but soon enough she was relaxed and enjoying her new experience.
Your cock was done waiting and so you got up and gave her ass a couple smacks with your hard rod. Placing one hand on the small of her back, you entered her soaked pussy easily. Her cunt gripped you immediately and you didn't even have to start pumping. Victoria was in control as she started moving back and forth on your cock. Her tits swaying with every move, her ass smacked you as she rode. You grabbed her buns to try and get a hold of her, but she was moving and wiggling too much on your cock for you to get a good grip.
"You hot slut, yeah, fuck my dick Victoria," you grunted.
"Yes sir… mmm your cock is so hot and thick."
You decided the only way to get her attention was to go back to her asshole. So you spread her cheeks and slid a finger into her ass.
"AHH!!!!!!!" she screamed.
You were then able to grab her hair and pull her head back a bit.
"You've had your fun you dirty girl.. now it's time for me to give it to you good."
The echo of bodies smacking together filled the room as you pounded her hot little cunt hard. You still had your finger deep in her ass as she screamed and moaned. You needed to get that ass ready for later; but she was ready for it now.
"Fuck my ass John… fuck my virgin ass…"
You didn't need any more instruction. Grabbing the lube as you pulled out, you coated your cock with the slippery liquid; adding a couple of drops to her hole. After getting your dick all ready, you held her down with one hand as you pushed your cock into her asshole with the other.
"AHHhhhhhhhhhhhh god… it's too biggggggg…." She screamed.
"You'll get used to it…. You told me to fuck your ass slut… now you're going to get it.."
With one thrust you shoved every hot inch into her asshole. Victoria felt like she was being split in two as you started to pump into her ass. You had her hips in your grip and forced her on your cock. Her ass was so tight, you knew it wouldn't be long before you came.
After a few more thrusts, Victoria was begging for more.
"Oh Johnnnn.. fuck my asss harder…"
With each thrust, you let out a loud grunt. "UGH… mmm you like that slut? You like it when I pound your ass honey?"
She wanted to answer, but couldn't. Her words now were nothing more than moans, screams, and whimpers.
You shoved a couple fingers into her cunt as her ass rode your cock and that was it for her.
"mmmmmmmmmmmmmm I'm cumminngggg!!!" she screamed as her pussy once more grasped your fingers.
That was enough for you to explode; so you pulled out your cock and stroked off on her ass….
"aaaaaaghhhhhhhhhhhhhhhhh," you groaned as loads of hot cum spewed on her ass and back. "oh god, Victoria.. mmmmmmmmmm"
You collapsed next to her as the both of you were catching your breaths. Your body was spent and it took only a few minutes for you to fall asleep.
When you woke up, you had to re-think where you were and what had happened. It was already midnight; you slept for three hours.
Damnit! You thought to yourself for falling asleep while Victoria was still there. You slowly turned around; nervous to see if an angry Victoria was there; but she was gone. And in her place was a note:
John,
I can't explain how wonderful tonight was. I have never felt so aroused and pleased before.
Now, as you know, I'm a married woman. Married to cop to be specific! So please understand that this will not be a regular encounter between the two of us. I'm not going to attend that class anymore in fear of being tempted to do this again.
Please forgive me, but know that I'll always remember you.
Victoria
PS… I noticed the video recorder in the closet. I hope it will bring you as much pleasure as you have given me.
After reading the letter, you got up and opened the closet door. The recorder was there, but it was empty. She couldn't have took the tape, you thought. She just said in the note that she hoped it would bring you enjoyment. As you scratched your head in wonder, you heard the familiar sounds of two people moaning, coming from the living room. You peeked into the room and saw me, watching the video… legs spread….fingers deep in my pussy….but that's another story….