Scott's Home-Cumming Ch. 02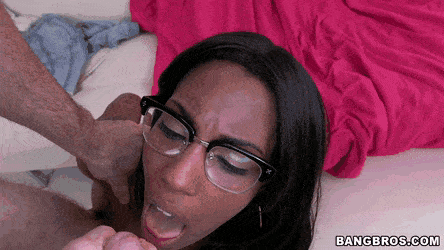 Scott slept soundly for about 4 hours until there was a knock at the door, "Housekeeping!"
He tried to shake the cobwebs out and was rubbing his eyes as he absentmindedly opened the door in just a pair of shorts.
"Nice," the girl said. She shut the door and then said, "I was going to wait until we got to the cabin, but if you're up for it then I'm open to anything," she said.
"Anne? What time…"
"It's 9. I owe you from last night, so if you want to fuck me before Neenah gets to the campground to pick me up, make it good and quick," Anne said.
"Just a sec, I need to hit the bathroom first," Scott said.
"Okay, but hurry," she said.
Scott went into the bathroom and put some toothpaste on his finger and licked it off. It wasn't the same as brushing his teeth, so he decided he should do that. He grabbed his toothbrush, sat on the toilet and peed while he brushed. He finished, spit into the sink and rinsed. He decided to get a washcloth and wipe the remnants of Penny off his dick and balls, and thought he better wash his hands, too. After his quick "GI shower" he felt minimally presentable to Anne. Or was it Bailey? No, it was the stripper, not the bartender. But who was Neenah?
He exited the bathroom and Anne had removed her yoga pants and tank top and folded them and placed them on the desk. Neatly folded and obviously visible on top of them was a black thong and matching bra.
"Think you've got enough left for me?"
"I will always have something for a beautiful angel," Scott bragged.
"Penny said you were definitely virile. Bend me over, I want to feel you, but don't cum in me yet. Then we hit the shower. I was downstairs working out, and, sorry, you need a shower but I want to feel you in me. When we get to the cabin I want to spend some time. Penny said you are a world class pussy eater- even better than I am."
What the hell did she just say?
Anne bent over and spread her cheeks wide, exposing both holes like Scott was supposed to choose. He chose the bottom one, and she said, "Ugh god, that feels sooooo good. Fuck me fast and hard then cum on my ass," Anne said.
He did. He treated her like a rented whore, and when he got close he pulled out and placed his head right by her ass. He could have slipped in but didn't, but did shoot a small load right there.
"Thanks. Now you owe me later," she said.
"I thought you owed me for saving your virtue and life last night," Scott said.
"Okay, we are even. Later we take some time and go slow. Deal?"
Without trying to leer over her magical naked body, he shook his head. "Deal."
Anne was absolutely stunning. Tight, lithe, shaved pussy, gorgeous face, the same stunning eyes as Bailey and Penny. On a beauty scale of 1 to 10, Penny was a 10, and Anne was about a 13. Beyond perfection however that was possible. She had a youthful immaturity about her than Penny did not but her beauty and sexual confidence were beyond words.
And she wanted to spend the afternoon together in a cabin and spend it with him inside her.
From Anne's perspective, she was looking for a good lay. She averaged about 2 or 3 guys a week in the Private Dance Booth, but nothing ever meaningful. While she had been in high school and more recently college, she had only slept with 1 guy and one girl. The guy had been a high school date that had followed her to college, and the girl had been her roommate. And all three slept together. The girls had kicked the guy out and slept together after that. One more time with the guy confirmed to her she liked both men and women. But it was easier to have some guy slip her $50 during a private dance where she could slide her bikini bottoms to the side and he could slip into her until she came. If he didn't cum, she didn't really care to be honest. She promised a couple minutes inside, nothing more.
They hit the shower together but didn't do anything but get clean. They quickly dressed and ate the last of the breakfast downstairs which technically should have been cleaned up a half hour ago. "Go for the sausage and eggs- you will need the protein for you sausage and my eggs," she purred in his ear. That made him hard, but now was not the time to think about it. He drank several cups of whole milk also. Whether these tricks actually worked or not, he was getting himself ready for a long day.
*************************
Scott couldn't figure out why his two nieces (so far only the two anyway) where such sluts. Were they normally this loose with new men? Was there some other force at play?
Anne was not above a one-night stand, but normally didn't give czech super models porno/ herself over like this to just anyone. She liked the safety of lesbian sex because she was not going to get pregnant from her female roommate, or from Penny. One night during closing up Penny had said she never had her pussy eaten out well, and since they had had a couple drinks, Anne went down on her. Anne knew her way around a pussy, and Penny had tried to pay her back but wasn't very good at eating pussy, and her experience at sucking dick didn't fully translate over to women. So after that event Penny went back to men only and Anne fucked a few guys each week but didn't really care who was getting her off.
Why? Why were these girls so anxious to fuck this stranger and share him with each other and then compare notes? Money? Maybe, he did say he was an investor. But he seemed more interested in satisfying them as well, unlike the soldiers who came through here on their two week rotation, many of whom were married and cared nothing for some local wench they had no desire to marry. Cheap, meaningless sex between two strangers, but Scott seemed different. Not so cheap and meaningless they told themselves anyway.
Scott seemed different and even if he didn't invest with them, he probably wouldn't marry them, but at least he could satisfy them and treat them like a lover and not just a warm place to dump a load. In short, everyone deserved good sex, even some young girls struggling to make a go at the family business.
************************
Scott pulled his truck up to a lake and Anne directed him to the best cabin there. April was getting close to fishing season, and in about 6 weeks when Memorial Day and summer arrived, this place would be buzzing. He thought about investing in this place if they needed help. With the right help, this place could be a goldmine.
They went inside and Anne said, "It's chilly. Can you start a fire in the fireplace, or do you need me to do it?"
"I think I can manage. Then what? Scott asked.
"I get ready, then come find me…"
He got a fire started and went down the hall to look for Anne. He found her in the whirlpool bathtub in the bathroom.
"Nothing like roughing it in the wilderness," he said.
"Are you going to…cum in,
Scott?"
"Hopefully this time," he said. He took his clothes off and entered the bathtub. Anne lit some candles around the bathroom and it smelled all girly. When he sat down in the tub, she sloshed her way over to him and planted a deep kiss on him. He was hard but the most important thing on her mind was having him eat her out. Before he got in there she had freshened up her area a little bit, but wanted to taste more like pussy than or "Evening Breeze". She rightly assumed guys wanted pussy to smell and taste like pussy and not some masking agent.
She stood up, her crotch level with his face. He looked at it, expertly waxed, bald, smooth, heavenly. Pale area with slightly pink lips barely protruding. She had a small pussy, but it fit her frame. He reached out to stroke it, and when he parted the curtain he could see the delicious pink center. It was wet, but not from the bathtub. She was already wet with her sticky juices and he went right to work. She moaned and looked up and placed her hands on the top of his head. The angle was all wrong for him to get any good shot at her and they both knew something would have to change. She looked up and saw the exposed support beam and she pulled herself upwards. Scott stood up and she wrapped her legs aroun his face, giving him better access. He licked and probed while she moaned. Her body started to quiver and she feared she might lose her grip. Scott stopped eating her and he exited the tub, and Anne followed. "I hope you are not done yet," she asked, almost begged.
"Not even close."
Because of her petite size and athleticism he picked her up and spun her upside down. Her pussy was at his mouth after he bent down and his cock was level with her mouth, and since it reached out, begging to be sucked, she happily obliged.
This position was not sustainable for a long period of time, but it was fun while it lasted. He took her to the bedroom and laid her down on her back. "Settle in," he told her.
She got comfortable and then he used his fingers to probe and then proceeded to lick and suck. Her pussy wasn't as flavorful as Penny's, but Anne was more than happy to let him eat her like she had never been eaten before. Penny had been correct- he had a Ph.D in cunnilingus.
He finished her off with a loud scream czech tax porno and squirt and let her revel in the post orgasmic glow. Then she asked, "Can you fuck as good as you eat pussy?"
"I always try," was his answer.
"Well, if it's half as good it will be twice as good as any I've ever had," she said.
"Condom?" She nodded no. "Where?"
"As deep in my pussy as you can. And as often as you can until 4 when Neenah gets here to pick me up."
He lined up with her bullseye. The tip just poked at her and she let out a small gasp. She had had plenty of dicks in her, some even bigger than Scott's, but she knew men liked to believe they were the first if possible, but definitely the biggest and best. Scott was by far the best pussy eater she had ever had, and her sexual anticipation was that he would probably be her best lover also. The gasp was real, and so was the tension.
So Scott was lined up with what was probably the most beautiful piece of ass he had ever had. She also happened to be his niece- or step niece, technically not blood relation, but in the eyes of the law he was just going to fuck his second niece in the span of a few hours. The nieces knew he was dipping in both, but they didn't seem to care, but would they care if they knew he was "Uncle Simon" and not, "Scott, tall, dark and handsome investor and man of mystery"?
Scott slid home and Anne felt it go deeper than she thought it would. "Oh god, that feels sooo…" he slid out and pushed back deeper as she was trying to finish her sentence. "Oohooohooh god, YESSS!"
She wrapped herself around arund him with her arms, legs and pussy. She tried to get his whole body inside hers. She wanted him and nature's instinct took over. As he pumped into her, her body rocking and bucking, she told herself, " I wish I hadn't taken my pill. I want his baby inside me! God, I need him inside me! If Penny can't get him to marry her, maybe he will marry me!"
As these thoughts were in her head and Scott's cock was in her thighs thrusting away, a wave of euphoria rushed ove her and she came. She gave Scott no warning and she came quickly a second time. Then she begged him, "Scott, please fill me up! God I need you to fill me up!"
He did. The milk and eggs and sausage did their trick because Scott filled Anne up so much that when he pulled out a river of his semen came out. She quivered and pushed and some more came out. She put her finger inside herself and licked her fingers. "I never let you cum inside my mouth. How selfish of me. I'm sorry," she said, sounding contrite.
Then she started to sob.
"Anne, what's wrong?"
"I have never had someone show me so much pleasure before. I feel so selfish. I was all about my pleasure and didn't help you," she said.
"Anne, you are magnificent and were wonderful. I have never been with such a beautiful and fascinating woman before. Hopefully we can do it again after lunch?"
She sniffed a little. "Hopefully, but Neenah is supposed to come up and the plan was to switch. But I don't want to share you."
"Anne, why are you all taking your turn with me, and openly sharing me? Not that I mind, but what am I missing?"
She sniffed again, and said, "Well, the hotel runs your card and info when you check in- standard practice which is no secret. And it showed your credit score and you said you were an investor. And we could use another investor once we get my grandparents' estate settled. My aunt Tanya had kind of asked us to soften you up and see what happened. Penny was interested in you before she knew you were the mark, and I like sex, too. Bailey was a little shy since she is really inexperienced, and Neenah is the virgin sacrifice if we need that."
"Why doesn't your aunt just come out and ask me to invest? Give me a legitimate sales pitch?" What would he do if she did, and didn't recognize him and pimped herself out and fucked him, her missing half-brother?
"She intends to when you see what we have to offer," Anne said, and sniffled again.
"Do you feel good about being use like this?"
"I often fuck a few guys every week for $50 each when I give them a private dance. I keep that money, so I don't worry about it. But this was different. They know and agree to the transaction when we do it, but I was supposed to manipulate you. And I didn't expect you to be so good. And Penny…"
"What about Penny?"
"Penny is not happy now because…because she doesn't want to share."
They cuddled fir a bit then Anne regained her sexual confidence. Scott and Anne did it one more time. She rode him and they defloration porno climaxed together, then held each other.
"Will I see you again, Scott?"
"If I have my way we will."
Instead of Neenah, Bailey came out to the campground around 2:30 and made up some story so Anne took off in the car, stranding Bailey. Scott said he would bring her into town when he got supper tonight. Bailey was dressed in a flannel and looked like she wa about to go hiking or fishing. They hiked around the camp and lake and Scott said," I would love to own a place like this."
Bailey suggested they go back and warm up before heading back into town. Even though they both knew he had fucked Anne- although he saw both Anne and Penny as sensual love making for some sick reason- they pretended it hadn't happened and what Bailey was going to do was unplanned and spontaneous- not being directed by her aunt.
Scott took her clothes off and she was very shy. He did his best at making her comfortable and had her sit in the rocker/ recliner in front of the fireplace. She had her legs splayed over the arms of the chair and Scott made sure to go slow and give her the most pleasure he could. He knew if he penetrated her she was going to be tight, so he really worked her over trying to get her ready. After he gave her a powerful orgasm she said she was ready for him to be inside, but she wanted to use a condom. It almost killed the mood, but he found her purse and ahe pulled one out. She tore open the package and leaned forward, kissed his cock and liked it. Bailey had never sucked a cock before and didn't do it for long because she was embarrassed by her innocence. She wasn't a virgin but was pretty ignorant in the ways of sex. Being Anne's twin with identical looks but a huge disadvantage and emptiness in experience compared to Anne was all very daunting for the shy Bailey.
She rolled the condom on his stiff member and leaned back. She threw her legs over the arms of the chair once again and then Scott placed his hands on the arms of the chair and rocked her forward as he pushed into her.
"Ohgod ohgod, ohhh god, that feels sooo good," she moaned.
"How would you like me? Faster, harder, slower?
"Make love to me on the floor, on that rug right in front of the fireplace," she said.
He picked her light body up. She was a featherweight like her twin sister Anne, but Bailey was shy and reserved. Anne used her pole dancing skills to make picking her upseem effortless but Bailey was easy to pick up also. Scott spread her legs and asked if she was ready again. She nodded and he slid home.
Jerry Swanson was the only boy Bailey had let enter her. They spent a fantastic weekend together here and there, but he eventually found a girl closer to home and left Bailey feeling cheap. Now, her aunt was asking her to pimp herself out to this stranger for a hope at some of his money, but she was enjoying herself. Penny said she felt like she could love him already and in Bailey's youthful innocence she felt the same way. Was she willing to step it up a notch? Would she fight Penny for this stranger? Or would she just sell her body and soul for money this time and then the next time her aunt asked her to?
"Scott, take off the condom. I want to feel you inside me. I want to feel your cum deep insde my body."
"Are you sure?"
"Yes. Oh god yes!"
She was stepping up her game. BC pills made her crazy and nauseous so she didn't take them and now she was playing with fire. She felt bad about trying to trap Scott, but she was the literal definition of a prostitute now, so taking a condom off didn't seem like the worst thing she could do.
Scott stopped and slipped the condom off, tossing it into the fireplace. The symbolism was that they were burning a bridge, but a bridge FROM where TO where?
"Oh that's so much better! I need it, Scott! Give it to me!"
He picked up his pace and as he felt her pussy clamp down and quiver she screamed out, "OH GOD YES! FILL ME UP AND MAKE ME YOURS!"
He emptied his balls into her. His only salvation would be if he had not had enough time to recruit an army of spermy swimmers since Anne left not that long ago. Bailey's unprotected womb was flooded with semen, and she glowed like she never had glowed before…
**************************
After one more round, Bailey was in love. She hoped she was carrying Scott's baby. Scott was happy and satisfied but was also anxious and nervous and a little embarrassed about bringing a freshly fucked and obviously smitten Bailey back to town and having to face Penny whrn he picked up his supper. Anne was fantastic, Bailey was sweet and taken with him, but if Scott was going to have another turn with the cousins, he didn't care about the exotic Neenah, the virgin. He had had fun with Anne, the stripper. And Bailey had been special, but Scott wanted one more night in Penny.
But Tanya, the puppeteer had other ideas.