My Week With Her Sister Ch. 03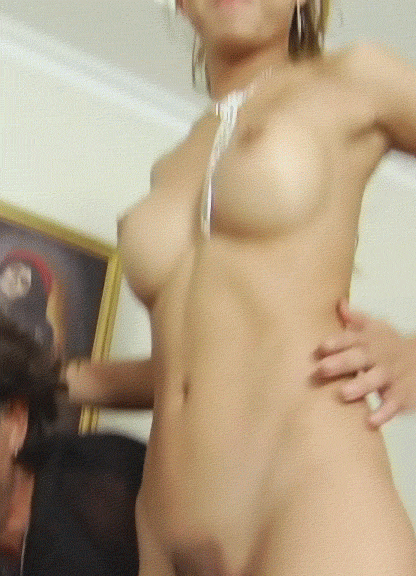 Chapter 3: Friday
It was Friday night and I was heading from my apartment over to where my girlfriend Tiffany lived with her sister Lynette. While my girl was away visiting her parents, I was having hot sex with Lynette every night. She was great in bed, and I was wondering what was going to happen between us once Tiffany came back as I walked over there.
I used my keys to get in and closed the door behind me. I called out to Lynette to let her know that I was in and she let me know that she was in her room. I walked back there and opened the door. I was surprised by what I saw. Lynette had set up a video camera on a tripod in front of the bed and was lying on top of the sheets in black lace bra and panties. On her feet were black pumps. She gestured me over to the bed. As I stood in front of her, she grabbed a remote control and clicked on the camera. She looked at the camera, smiled, and then stood up in front of me.
Lynette pulled my shirt off over my head and started kissing me. The shirt was dropped onto the floor and she began rubbing my chest. Her fingers moved over my abs while her tongue was in my mouth. I started moving my hands over the curves of her body. Her flesh was warm in my fingers. Lynette grabbed the waist of my shorts and undid them before pulling them down. My erection popped up under my boxers and poked her above her pelvis. She began rubbing my hard cock through my underwear. She gave it a grab and then sat down on the bed.
Lynette sat back a little and then, with her legs spread, slid her panties down off her thighs. I grabbed them and slid them slowly down her calves and then around her shoes. I put them to my nose and gave them a quick sniff, the scent of her pussy soaked into them. I dropped them to the floor and knelt in front of her. Lynette spread her legs wider and used her hands to open her pussy lips. I happily moved in, my tongue extended ready to play with her clit.
Lynette's shaven pussy was already glistening when I started licking it. Her clit was hard against my tongue as I flicked the tip of it slowly but hard. I felt Lynette put her feet on my back and her thighs were warm against the side of my head. I used one of my hands and slowly slid two of my fingers into her pussy. My fingers were quickly coated with her juices and moved in easily. Lynette began moaning softly as I worked on her clit and my fingers filled her hole. She began grinding her groin into my face, pushing her clit harder onto my tongue. Lynette's pussy was tight around my fingers while she fucked my face. Her breathing became faster and I could sense her climax approaching. Lynette's thighs clenched around my head and her pussy tightened as she came. Her cum dripped out of her hole and down my wrist. I slid my fingers out and licked the sticky juices from them. I then sat up and let her taste her cum as I kissed her deeply. Lynette then got up and laid me down on the bed, my head facing the camera. She knelt at trabzon escort my feet and told me to lift my legs so that she could slide my boxers down. She tossed them to the side as her eyes gleamed at the sight of my cock. Lynette then straddled me. She used her hands to guide my hard cock into her pussy. Her cum still dripped and I slid in deeply. We both let out moans as her walls gripped my shaft. I held onto her thighs as she began moving, sliding herself up and down my cock. Lynette reached behind her and unfastened her bra. The lace garment slid down her arms and released her 44DD tits. I sat up and started sucking her erect nipples. She pushed me back down and tweaked her nipples. Lynette began grinding my dick harder, causing me to moan her name. My hands were roaming all over, tracing as many curves of her size 18 body I could.
"Damn Jared, you are so deep. I need you to cum in this pussy." I looked up into Lynette's eyes and could see the need in them. I moved my hips in unison with hers, our groins rubbing against each other. Lynette raked her nails down my chest and leaned her head back, her tits being pushed out towards me. I sat up and held my head against her chest.
"Damn Lynette, I'm about to give you all of this cum baby," I said as I felt my balls tighten. She wrapped her arms around me and we held each other tight as I climaxed, my cock shooting my hot load deep into her waiting pussy. She let out a loud moan as she reached her orgasm right after me. Her pussy walls pulsated and I could feel our cum dripping down my shaft and between my legs. We sat there, kissing each other breathlessly. A few moments later, she slowly slid up off my cock and then reached for the remote. She turned the camera off and then we lay back on the bed, letting sleep take over.
The next morning, I was half asleep when I felt Lynette get up out of bed. It was Saturday, and I usually slept in late. I am not sure how much time had passed, but I was vaguely aware of some giggling. I slowly opened my eyes and got the shock of my life. Standing next to a nude Lynette was my girlfriend Tiffany! I quickly pulled the covers up all the way over me and saw her laugh at my reaction.
"My, my. Look who's been busy while I was away," Tiffany said. "You been here fucking my sister while I was visiting my parents. Did you have fun?"
I stared at her, trying to find something to say. "Oh yeah, he had fun," Lynette replied. "And we have the tape to prove it," she said, pointing to the camera.
"Well, I hope you enjoyed it," Tiffany said, "because now your life will never be the same again." As she said this, she leaned over and started kissing Lynette! Now I was in total shock. Tiffany saw the confused expression on my face and the both of them laughed. "How did you like our plan?" she said. "We set this up from the beginning. I wanted Lynette to call you over and seduce you. Now I get to share my two favorite lovers."
"Lovers?" trabzon escort bayan I asked, my head swirling.
"Yeah, lovers." Lynette chimed in. "We have been fucking each other for years. And now we get to add another to the mix. Lynette then began unbuttoning Tiffany's blouse. The shirt was open and I saw that Tiffany wasn't wearing a bra underneath. Her 32 C breasts were perky and her dark nipples were already hard as Lynette began licking them. Tiffany reached down and started stroking her sister's tits. Lynette then looked at Tiffany and said, "Wait, let's do this right." She then pulled Tiffany over to the foot of the bed and the both of them sat down.
Lynette used the remote to turn on the camera and as soon as the red light came on, they started kissing each other and tweaking their nipples. I slid down the bed and sat next to Tiffany. I saw her reach down and start rubbing Lynette's pussy. I was still in shock, not sure if I was dreaming when Tiffany took my hand and placed it on her tits. She turned to me and started kissing me. It felt good to taste Tiffany again after a week of her being away. Lynette reached down and slid the bottom of Tiffany's skirt up, exposing her thighs. Lynette was about to reach underneath Tiffany's underwear when she stopped Lynette. "Uh-uh, I need to feel him first," Tiffany said. She told me to sit back on the bed. I did as she stood up and slid down her skirt, revealing her pink thong. Tiffany's size 10 body was very athletic and her skin soft and smooth. She turned her back towards me and slid the thong down, revealing her round ass. I could see her swollen lips from behind.
Tiffany crawled across the bed and kissed me. She then turned around and knelt on all fours in front of me. I got on my knees behind her and grabbed my erect cock. Tiffany spread her hips slightly and used one of her hand to guide me in as I gripped her thighs. Her pussy was tight and I slid in slowly, going a little at a time. Once I was in, I looked up and saw Lynette laying on her back and sliding in front of Tiffany. Lynette spread her legs and Tiffany leaned her head down and began licking her sisters' cunt. I moved my hips, sliding my cock in and out of Tiffany's pussy. I reached back and spanked her ass. The flesh of her bottom rippled a little where I hit it and the sting of the slap caused her to yelp. Lynette grabbed the back of Tiffany's head and pulled her harder onto her pussy. My cock filled Tiffany's tight pussy and stretched her walls as I started fucking her faster. Her tits were swaying under her from the rhythmic impact of my groin against her ass.
I heard Lynette call out Tiffany's name as she climaxed, covering her sister's face with cum. Tiffany pulled her head up and looked back at me, lust in her eyes. She implored me to fuck her harder. The sight of her mouth covered in Lynette's juices got me going. I moved my hips faster, my groin slapping against Tiffany's ass. escort trabzon Tiffany began moaning louder. I felt Tiffany shudder as she came, her pussy gripping my cock. My head felt lighter and my vision blurred. I grunted loudly as I exploded into Tiffany's pussy. I could feel her walls moving, sucking out every last bit of my cum. I slowly slid out of her pussy, a thin strand of cum dangling between my head and her lips.
Tiffany lay me down on my back and looked me in my eyes. "That was good for me, but now what about Lynette? We can't deny her some dick." They looked at each other and smiled. Each of them knelt on opposite sides of me and began stroking my cock and balls. They then leaned in and both started licking my cock. Their tongues felt great along my shaft as they moved over it and around each other. Their lips kissed along my cock covered it with their saliva as they kissed each other around it. A few minutes of this got the blood flowing back into my rod.
Lynette lay on her back across the bed and I was told to get on my knees in front of her. She slid herself forward and I maneuvered my hard cock into her pussy. She put her feet on my shoulders as I started fucking her. Tiffany straddled over Lynette's face and lowered her pussy down onto her sister's face. I could hear Lynette lapping at Tiffany's cunt. I put one of Lynette's feet to my lips and sucked her toes. I slid them in and out of my mouth, causing her to giggle and moan into Tiffany's pussy. My balls slapped against Lynette's ass. Tiffany started moaning louder. "That's right, lick his cum out my pussy," she said. She started grinding her pussy harder onto Lynette's face. I watched her ass move from the motion.
Lynette took one of her fingers and, after coating it with some of Tiffany's cum, slid it slowly into her sisters' ass. Tiffany began yelling louder in pleasure. Lynette's finger moved in and out from Tiffany's grinding. I saw Tiffany's anus stretching slightly around Lynette's finger. The smell of our sweat and cum was thick in the air. Tiffany let out a loud yell as she climaxed all over Lynette's mouth. Tiffany then got off Lynette's face and lay next to her, taking Lynette's tits in her mouth. Lynette's nipples quickly got hard as Tiffany's tongue slid over and around them. I began slamming her pussy harder, the clapping of our flesh mixing with our moans. Lynette gripped Tiffany's hair and the sheets as a powerful orgasm washed over her. Shudders flowed through her body in waves, causing her to tremble as her cum leaked out around my cock and down between her legs. I told them I was about to cum and Tiffany told me to cum on Lynette's pussy. I pulled my cock out and started stroking it. A few moments later, a hot stream of cum shot out my head and landed on Lynette's pussy lips. I continued stroking, coaxing every drop out and watching as they streamed onto the pussy underneath me.
"Now lick it up," Tiffany said, "but don't swallow it. I leaned down and began licking my cum off of Lynette's pussy, making sure I got every drop. The both of them then sat up and the three of us kissed, all of our cum being shared between us. We lay back on the bed and I thought about how this new arrangement was going to work out.